JEDLO PRE AJŤÁKOV
CREATIVE HR CAMPAIGN TARGETED AT IT PROFESSIONALS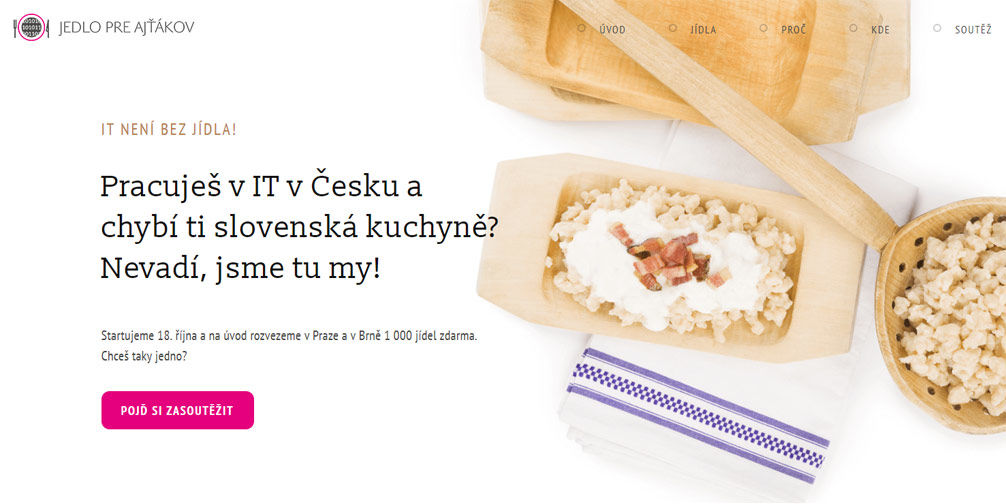 Background
T-Systems, the leading IT provider in Slovakia, faced a lack of skilled IT professionals in the eastern region of the country. One of the largest Czech PR agencies, AC & C, Public Relations, s.r.o., came up with a creative and viral campaign that targeted IT professionals from Slovakia, who were working in Prague, to incentivize them to return to work in Slovakia. At the core of the PR campaign was an interactive online contest developed by Prague Labs.
AC & C needed a landing website for this massive online campaign. The website contained a short presentation of complimentary food delivery service to IT professionals who joined the online contest. The contest consisted of an interactive questionnaire with multiple choices, a countdown timer, hacking protection, and a back-end for the evaluation of answers. After the PR campaign and contest were concluded, the website was adjusted to promote IT job opportunities in T-Systems.
Solution
In less than a week we at Prague Labs created an engaging website for the online contest to maximize the effectiveness of the PR campaign. The design was composed of captivating images and a simple layout that didn't distract visitors from the primary campaign message and was developed in strict accordance with corporate identity guidelines provided by the client. The website created by Prague Labs made the online PR campaign highly effective, and more than one thousand IT professionals participated in the contest and received a traditional Slovakian meal delivery free of charge.